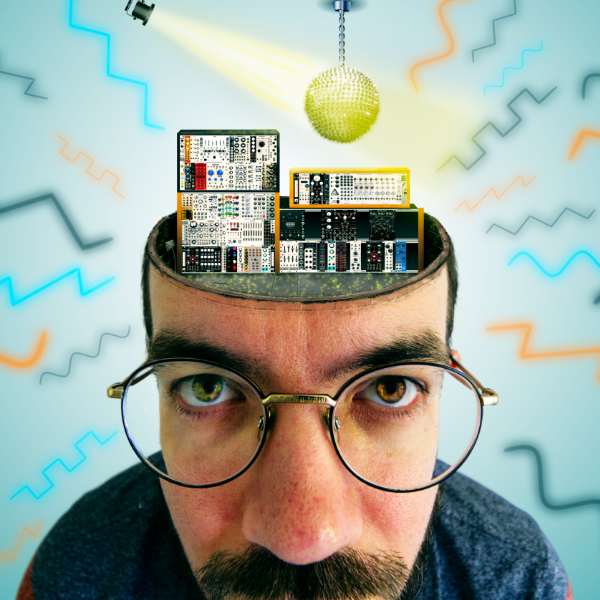 I'm Andy or just Chief Thomson when talking music.
Born in 83 in southern Switzerland, my dad was already a musician and my mum a huge music enthusiast. Early did I have access to music tapes & instruments to get some auditive excitement.
With my fascination for computers and technology, it was only a matter of time before I was drawn to music production. Around 95 I started with Dance Ejay ;)
It all started with fancy samples, loops and distorted results. From there it was a quest of the right DAW. From Logic to Cubase to Ableton to FL Studio, until today where I prefer Reaper as my DAW.
Lucky I was, that we had a local Producer and DJ in our village. Well known in our region with a bunch of releases and many acts as a DJ, I had the pleasure to get to know him. As he had many old vinyl records as a DJ, I bought some of these off him. Of course I was really proud of them, as I obviously got them from someone to whom I was looking up to.
He was the one who taught me about 19 inch racks that were holding these massive machines in the 90s for reverb, delay, samplers, patchbays, DAT tapes etc. and mix consoles with motorized faders, Cubase and much more.
Beginning of the 21st century, a friend spent some money on a classic Technics MK-2 set with a mixer. We did loads of combo DJing by swapping places after each track (called the Ping-Pong). As much I was enjoying it, I knew this was for my pleasure only and wasn't something to follow-up on. DJing is literally the coolest way to get in contact with other artists and learning all the "big names", which still inspire me to date.
Nowadays, I focus on production and engineering. I released one album, couple of EP's and release Modular Synth Jams on my YouTube channel or other tracks and sound experiments on my Soundcloud.
I've done a couple of collaborations with other artists in different genres and my aim for the future is to definitely have more of them, as they're quite enriching and fun.
Being creative in ways like coding, taking photographs and video editing is what keeps me going. I also think opening up my ears/mind to all kind of genres, is what supports my curiosity of different approaches to work on my current and future projects.
Long time favourites - Electronic Dance Music:
Sven Väth, Jeff Mills, Matthew Herbert, Stewart Walker, Samuel L. Session, Heiko Laux, Red Snapper, Johannes Heil, Aphex Twin, Cari Lekebush, DJ Rush, Olav Basoski, Justin Berkovi, Terence Fixmer, Thomas P. Heckmann, Laurent Garnier, Reinhard Voigt, Ben Sims, Adam Beyer, Armand Van Helden, LTJ Bukem, Neil Landstrumm, Steve Bug, Christian Morgenstern, Chris Liebing, Kruder & Dorfmeister, Photek, Paul Kalkbrenner, Gayle San, Richie Hawtin, Ricardo Villalobos, Actress, Mount Kimbie, Boys Noize, Theo Parrish, Marc Romboy, Green Velvet, DJ Koze, Format:B, Oliver Huntemann, Mike Dehnert, Robert Babicz, Robag Wruhme, The Advent, DJ Hell, Mr. Oizo, Justin Berkovi, Robag Wruhme, Stimming, Marcel Dettmann, Andy Stott, Magda, Surgeon, Aaron Carl, Mike Dehnert, DJ Krush, Jackmate, John Tejada, Losoul, Moodyman, Rick Wade, Lowtec and many many more.
Long time favourites - EDM labels:
Freude am Tanzen Records, CLR, Cocoon Recordings, Deeper Shades Of House, Planet E Communications, M_nus, Poker Flat, Warp Records, Accidental, Border Community, Cadenza, Connaisseur, Deep Tech Records, Ed Banger Records, Fabric, Fachwerk Digital, K7 Records, Kindisch, Mahogani Music, Ninja Tune, Pets Recordings, Playhouse, Plus 8 Records, Terminal M, Strictly Rhythm, Systematic Recordings, Watergate Records, Fachwerk Records and many more.
Long time favourites - other genres:
Ben Harper, David Bowie, Björk, Belle & Sebastian, Radiohead, Portishead, Recoil, Shirley Bassey, Tracy Chapman, Korn, Marilyn Manson, Placebo, Alanis Morissette, Massive Attack, Simon & Garfunkel, The Mama's & The Papa's, Bronski Beat, Bonnie Prince Billy, dZihan & Kamien, Loreena Mc Kennit, Boards Of Canada, Cypress Hill, Carole King and many many more.... ;o)

Age: over 18
Job: IT guy
City: Coventry, England